It's wedding planning season! Maybe its also time to consider one of 2018's hottest trends: dessert buffets. Imagine it: cakes, cookies, puddings, cupcakes, and pastries all thoughtfully placed on a beautiful dessert table. People will come running to just have a little taste. A dessert buffet is a fantastic way to please guests when you're trying to stretch money, too. There is something that will please everyone and you won't need to get a big wedding cake.
Try finger-food desserts. This is easy for self serving. Just tell guests to grab a plate and walk on down the line. Add cookies, tiny pudding cups and single serve cakes to the mix. With this dessert buffet option there is a huge variety and guests can choose to eat as much or as little as they please. This is also a great option for guests who might be vegan or gluten free because you can simply add a few desserts to accommodate each person.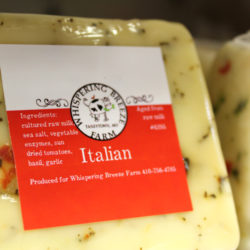 Whispering Breeze Farm's Italian cheese
This farm has been in the dairy business since 1901. The company has stayed in the Brower family's name over the years, growing from four cows to over 60. All of Whispering Breeze's cheeses are made from raw cow milk and are aged for 60 days. The cheese is locally made and has no preservatives, antibiotics or growth hormones. The farm sells interesting and unique flavor varieties such as cheddar, Chesapeake, Italian, smoked bacon dill, blueberry and many more.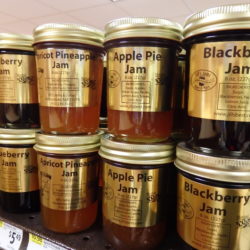 Jill's Jams, Mixes & More variety of flavors
Jill's is another thriving local business that Santoni's loves to support. Try jam flavors like apple pie, blackberry, apricot pineapple and triple berry just to start. What's the coolest thing about Jill's products? They are all still made the old fashioned way. All products are handmade on a stove-top, hand stirred and hand packaged- that's how you know you're getting the best of the best. In addition to jellies and jams, this thriving local business also sells dip mixes, soup mixes, drink mixes, scone mixes and more!
Are you looking to try a new recipe? Grab some crackers or toasted bread and spread your favorite flavor of Jill's Jams on top of a slice of Whispering Breeze's cheese. Your taste buds will be bursting with flavor. This could be a great snack or even be served as an appetizer at your next party.
Do you love supporting local businesses as much as we do? Check out a previous blog on the benefits of buying local.