Santoni's prides itself on being a local staple of its community. We believe in the power of the combination of great food and great service. Shopping at local destinations near you has benefits that you may not have thought of before. Check out a few reasons why buying local and supporting local businesses is essential –
Local Money. When you buy local, money stays in your community rather than being shipped off to large corporations in far away cities and countries. Supporting your local economy is helpful for you, your neighbors and other businesses in the area.
Local is Cheaper. Cutting down the cost of transportation makes the cost of food production plummet – that could mean cheaper products for you! When you support a local business, that business wants to keep you as a loyal customer. This drives innovation and great customer service within businesses.
Customer Service. If you've ever been to Santoni's you know the amazing service you're greeted with as you walk through the door. Because Santoni's is a local business, our customers are truly our number one priority. At Santoni's, you are able to know the people behind the products.
Local is Fresh. At Santoni's we pride ourselves on providing our customers with the highest quality products and freshest ingredients. With less transportation and less processed goods, we are able to continue to make our customers happy.
Support us and other local business in the community by buying and eating locally!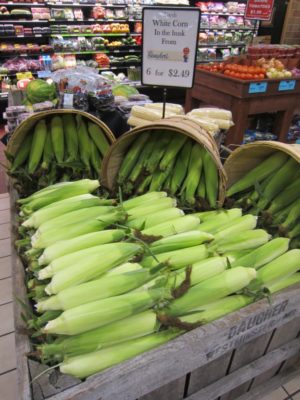 Fresh corn from Baugher's Farms in Westminster, MD