Every Saturday summer afternoon, Santoni's breaks out the big grill and tent. Lines wrap around the building. You can get a whiff of the delicious scents from your car. People gather from near and far just to get a sandwich. But, why? Because Marylanders love pit beef.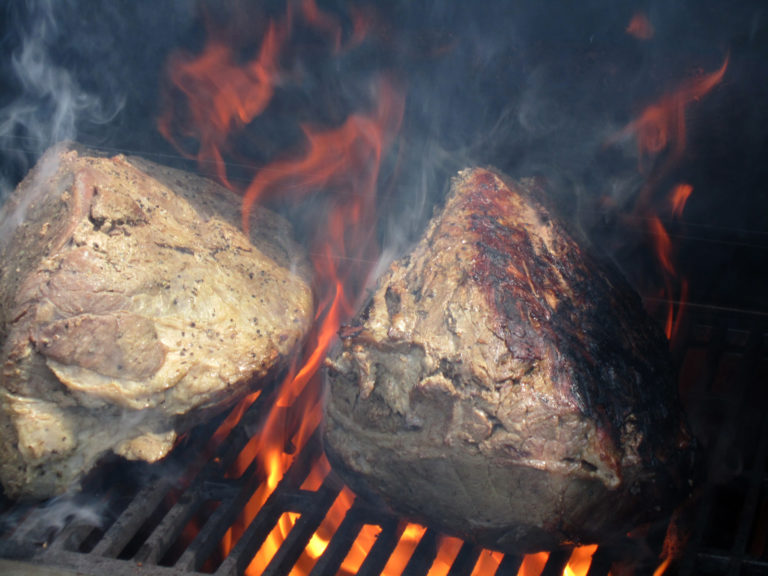 Pit beef roasting on Santoni's grill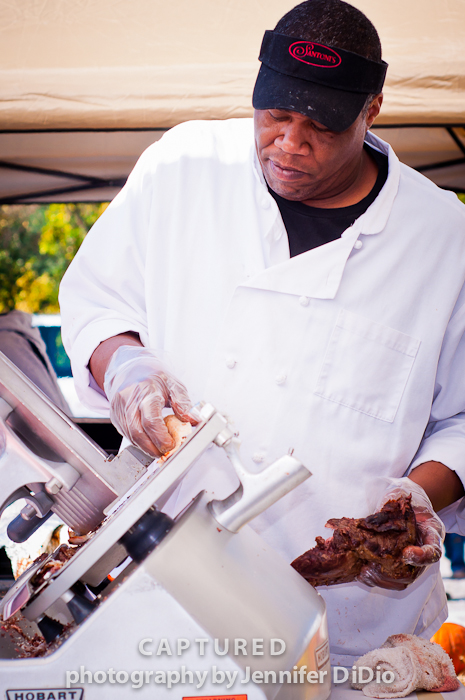 One of Santoni's crew members, Daryl, slicing pit beef
What is Pit Beef?
Pit beef is a local favorite and the biggest, best sandwich that Baltimore has to offer. For those of you who don't know, pit beef is no ordinary smoked meat or barbecue. This sandwich is filled with love and personality – just like the people who eat it. A sizable roast is grilled over charcoal, thinly sliced and piled sloppily onto a Kaiser roll. The beef is minimally seasoned and is often served moderately rare. Depending on where you go, the sandwich might be topped with onions, barbecue sauce, cole slaw, horseradish, and mayonnaise (or any combination of these.)
Pit Beef at Santoni's
Don't let your growling stomach deceive you; your eyes are much bigger than your stomach. These sandwiches are HUGE. Don't expect to look pretty eating this monster. One sandwich has 8 ounces of beef and is served on a massive kaiser roll. At Santoni's, you get to be creative and add your own toppings. Hungry customers have the option of adding onions, barbecue sauce, mayonnaise, mustard and/or horse radish to the sandwich. For only $8 you get a huge sandwich, a drink and a bag of chips. Pit beef not your thing? We have roasted turkey and ham sandwiches available, too.
Opening Day – Pit Beef Saturday
Not only do you get an appetizing and affordable meal, but you become part of the Santoni's community. Share your warm weather experience with other members of the community. There is no better way to get to know your neighbors than bonding over a delicious roasted sandwich! On opening day there will be plenty of samples to try, too! We'll have Rouge Pierogies, Saval corned beef, Gunpowder Bison and Logan's Sausages available.
Pit beef is a tradition that Santoni's loves to keep alive. Help keep the tradition thriving and don't miss opening day on April 14th from 10:30 a.m. to 4:00 p.m. in front of Santoni's store. But, don't worry if you can't make it. We'll be out here every Saturday this summer.
See you soon!