In the blink of an eye, winter's storms are gone and the sweet summer months are arriving. With nice weather comes more outdoor activities and time to spend with friends and family. Santoni's Catering can help you throw a fun-filled summertime cookout, graduation party, birthday party, family reunion or picnic without you having to spend hours in the kitchen or worry about a thing.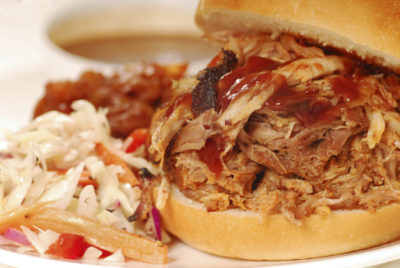 Barbecue pulled pork sandwich with coleslaw and baked beans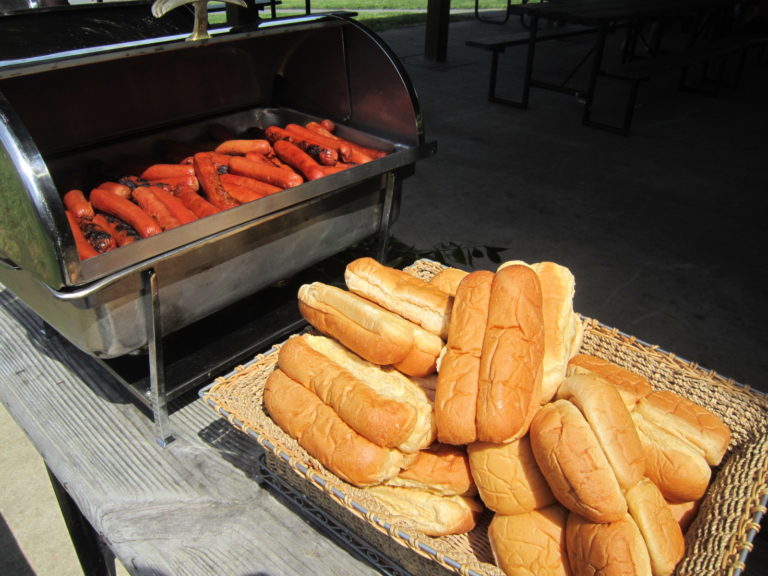 Backyard Cookout Essentials
With Santoni's picnic catering, there isn't much you need to do to have a rocking backyard party. We take care of everything – meat, sides, chips, assorted drinks and even pickles. Our summer picnic menu is great for any occasion. Here are a few essentials that you'll need to prepare for a backyard BBQ party.
An awesome guest list with all of your favorite family members and friends
A fun playlist to add to the good times
Plenty of seats and table space
Lawn and outdoor games
Graduation Party Essentials
As high school and college students are working hard and preparing for graduation, Santoni's has been working hard creating the perfect menu that will please everyone at your party. Since you've gotten the cookout food taken care of, here are a couple of things you'll need to make sure you have before the big celebration.
Hot dogs and buns as part of Santoni's Cookout menus.
Cake – Santoni's talented bakers can create a masterpiece that's personalized to your grad
Decorations – balloons, streamers and plenty of 2018 themed decorations
A card box – for the grad's congratulatory cards
Appetizers – you don't want to keep the hungry people waiting
Photo booth – a few props and a backdrop will make for some memorable photos
Picnic Essentials
On a warm, breezy Saturday afternoon there is nothing better than a picnic in the park with loved ones. Bring the dog along, too, for a little extra fun. For larger parties, order from Santoni's picnic grill menu. For a smaller gathering, stop by our deli and pick up a few subs to go. Check out this list of essentials for the perfect summertime picnic.
Blanket
Reusable plates, utensils, and containers
A hat and sunscreen
Plenty of napkins
Portable speaker
Frisbee or football
Trash bags. Make sure to leave the park as beautiful and clean as you found it!
Enjoy the warm summer months! For more information on Picnic Grill Packages, call 410-833-6610 or contact us here. This package is available seasonally, until September 30th, 2018.