How much do you recycle? At Santoni's, we have made substantial advancements over the years throughout the recycling world. These advancements include our connections with local companies, our products, and how we operate.
Being eco-friendly is an important part of working in the food industry because there are all kinds of recycling opportunities. We encourage all of our business partners, as well as other companies in the food industry to do the same. Some of the connections and programs that Santoni's is involved with are Liberty Delight's Farm, Restaurant Technology, Westminster Rescue, the Helping Up Mission, and Cockey's Trash Removal.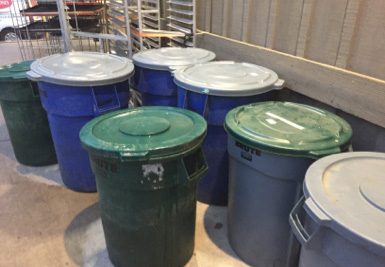 Liberty Delight's Farm Waste Program
Liberty Delight is an all-natural meat producer located in Reisterstown, Maryland. All of their animals are fed crops that the farmers grow themselves or that they get from other local farms. These animals are all raised naturally without antibiotics, growth hormones, or growth stimulants. Santoni's gives barrels of food scraps and trimmings that are leftover from the marketplace to Liberty Delight's Farm. Instead of wasting food, the food is used to help feed the animals.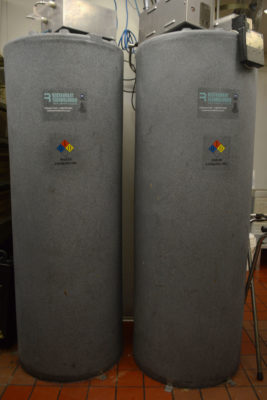 Restaurant Technology's Oil Recovery Program
Restaurant Technologies is a corporation that helps restaurants and retail places like Santoni's to have "safer, and smarter kitchens." Their key trademark is their oil management because it helps employees transfer oil more safely and efficiently. They do this by installing two tanks that hold the oil. Employees can replace the bad oil by clicking a simple button, and not worry about burning or hurting themselves. After the return tank is filled with the old oil, the program picks it up, processes it, and then turns it into an energy source. This program has allowed us to use less, recover more, and sell for reuse.
Westminster Rescue & Helping Up Mission
Westminster Rescue and The Helping Up Mission are both non-profit organizations that partner with local churches, businesses, and other organizations to provide relief, rescue, and other services for people in need. Helping Up mainly deals with helping men fight addiction and homelessness so that they can get their lives back on track. This organization gives their clients food, shelter, clothing, as well as medical, educational, and vocational needs. Rather than letting food go to waste, Santoni's gives these organizations the leftovers from catering events to feed the organization's clients.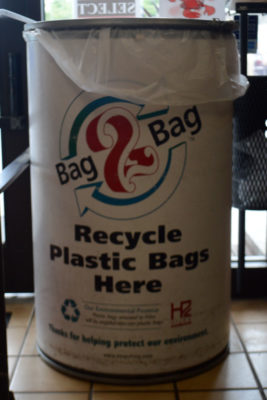 Reduce, Reuse, and Recycle
Another way Santoni's has undergone several changes in the recycling aspect is through our recyclable bags that customers use to take out their food. In front of our marketplace, we have a barrel that we use to recycle our bags and then they can be turned into new bags.
For many of our products, we have switched to paper and plant-based material so that customers can recycle more. If you walk through our store, you'll see that we have options that fit our customer's needs, while giving them the ability to recycle. At our salad bar, we have containers that are made from plant-based material and it's biodegradable. When looking at our coffee station, you will see that we have all kinds of cups that fit each customer's needs. The paper cups tend to be for people who drink their coffee fast, along with the other materials for that long commute to work.
We have done a great job with recycling due to our cardboard and trash compactors. Before, we would have our waste put into the same dumpster, and we ended up dumping it daily. Now, we have a system that allows for more trash and cardboard to be stored separately, and it's dumped once a month rather than once a week.
There are many ways that companies can follow in our footsteps and achieve an eco-friendly environment. Although we are about 80% eco-friendly, we are always working to improve our environmental footprint because there's always more than we can do.