Fall wedding trends for 2019 consists of holistic, minimalist, and rustic decor. Help bring the outdoors in. Use dessert and appetizer bars to create a second element of decor. Use your menu to create a warm and cozy atmosphere that will impress your all guests.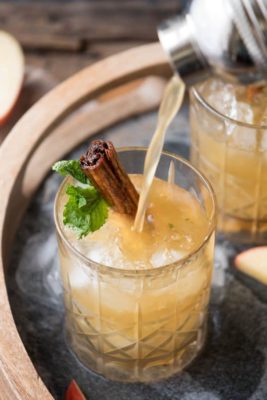 Cocktails
Personalize your cocktail hour with a signature cocktail. Some great signature cocktails for fall include White Pumpkin Russian, or an Apple Cinnamon Whiskey Smash. These cocktails have the perfect elements of fall. Try using mason jars for your signature cocktails; this is a great way to add a rustic touch.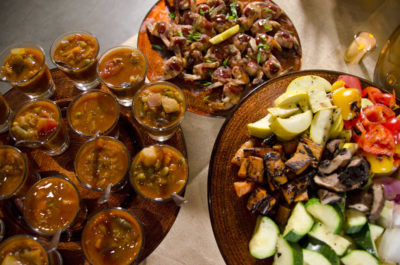 Appetizers
Incorporate food that is displayed, as if decor. A great idea for this includes grazing tables.Grazing tables consist of cheese, crudité, as well as seasonal fruit, flowers, decorations and serving utensils and dishes. Use miniature appetizers to create a fun and intriguing cocktail hour. For example, soup shooters are a great way to warm up your guest on a cool fall day. Mini sliders, lamb chops, baby crab cakes, and chicken & waffles make great hors d'oeuvers to be butlerd through out cocktail hour.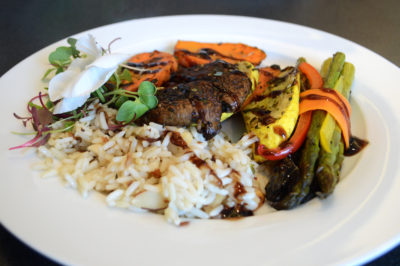 Entrées
Vegan entrées are a great selection to include for you fall menu. A vegan or vegetarian option is Mushroom Wellington with wild mushroom and herbs in a puff pastry topped with a red bell pepper sauce. A great seafood option is Maple Lacquered Salmon; this seafood option brings in all the flavors of fall. Beef tenderloin is always a popular entrée for fall. Every great meal should have a starch and side of vegetables. Gourmet mac and cheese bars or a side of potatoes make a great side. The gourmet mac & cheese bar includes toppings like crab, bacon, fried onions and even blue cheese crumbles. This makes a great way for your guest to customize their meal. Another great starch includes potato au gratin, this put a spin on the traditional potato dish. Use fresh seasonal vegetables such as squash, asparagus, carrots and mushrooms to add fall flavor.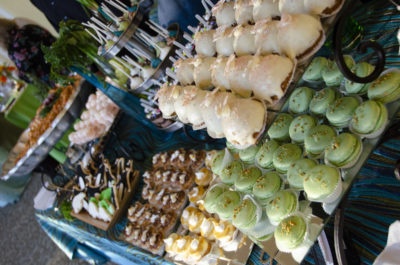 Desserts
Incorporate dessert as décor as well. Create an interactive s'mores bar. S'mores bars bring the outdoors in and give the night a cozy atmosphere. Another great idea for dessert as décor is a bar of miniatures. Incorporate different levels of desserts, such as, mini pumpkin pies, mini pecan tarts, seasonal macaroons, mini parfait cups etc. Mini dessert bars are great for all your guest tastes. But, if you want to stay traditional, try a wedding cake with a twist. Naked cakes are extremely popular this coming fall. Add fall florals to create a beautiful, but minimal wedding cake.