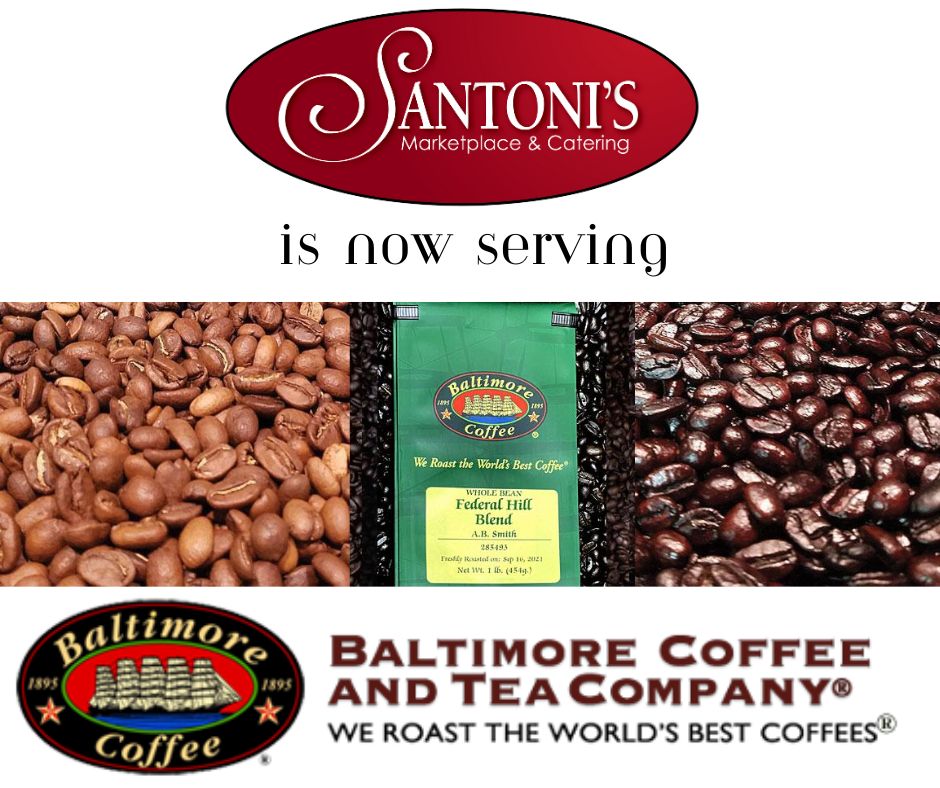 Santoni's Coffee Bar is now selling Baltimore Coffee & Tea Company product as well as featuring them on our coffee & tea bar.  Baltimore Coffee & Tea dates back to 1895, and most likely you have already tried their coffee since it is supplied to the best restaurants, gourmet stores and coffee houses in North America and Europe.
Baltimore Coffee and Tea comes from plantations around the world since they have established close relationships with growers and brokers, over many generations, to assure a consistent supply of the World's best green coffee.
They carefully roast their coffee in small batches, using French made Samiac coffee roasters.  Samiac roasters are known in the trade as being the finest coffee roasters that money can buy.  They never water quench their coffee after roasting, but prefer to air cool the coffee, which ensures that the peak flavor and subtle notes stay in the beans.  Samiac Roasters also have solid roasting drums, unlike many roasters that have perforated roasting drums.  Their solid roasting drums prevent "tipping" on the outer edges of the coffee bean. "Tipping" is the burning of the bean's edges, contributing to harsh flavor.
Fun Facts:
They roast all of their coffee to order.
The date roasted, & customer name is printed right on their heat-sealed valve bags.
All their blends & dark roasts are gluten free as well as their teas.
They offer K-Cups in regular and decaf.
Find more information about Baltimore Coffee and Tea | Baltimore Coffee and Tea (baltcoffee.com)