No time to spend hours cooking and decorating for your Halloween party? Then you will love these tips on how to still have a fun and fuss-free party by just stopping by Santoni's Marketplace.
First, give your home a festive Fall feel with a variety of Halloween balloons, cards, pumpkins, and flowers that will liven up any party.
Next we'll move on to what everybody looks forward to; the food!
Here are some fun recipe ideas you can create by grabbing a few items from Santoni's shelves, and adding some extra ingredients you probably already have at home.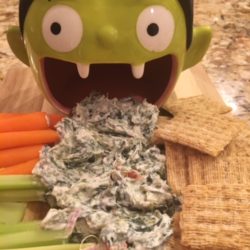 For another fun and easy appetizer, pick up Santoni's pre-packaged Spinach Dip, add crackers and vegetables to a long tray, and make it appear as if the Frankenstein has gotten sick.
This is a quick but fun appetizer. Grab some deviled eggs from the pre packaged salad section, and use some of the red bell pepper from before to make little devil horns.  Place them into the egg, and now you have yummy Devil Deviled Eggs.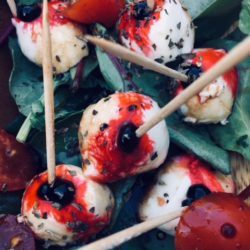 This last appetizer idea requires some Mozzarella Salad from the Gourmet To-Go Case. Add a little red food dye, and sprinkle with balsamic vinegar; and now you have a delicious but spooky Bloody Eyeball Salad that all the adults will love.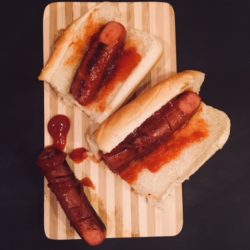 For the main course, the kids will love eating Bloody Finger Hot Dogs.  All you need are hot dogs, buns, ketchup, and a little imagination while recreating a life like finger.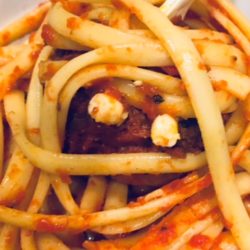 Cute Mummy Meatballs and Spaghetti are a delicious, satisfying, and classy entree for your adult guests.  Just visit our Gourmet To-Go Case and pick up as many meatballs and pasta as you need for your guests.  Take one mozzarella ball from your Bloody Eyeball Salad appetizer and use a straw to cut out circles for the eyes.
Dessert
Santoni's has a wide variety of pre-made desserts that only require you to gather as many delectable treats as you want. Choose from festive cakes, cookies, pies, and candies that will leave all your guests wondering about your super party throwing powers.
There are so many more fun and festive recipes that you can create by just starting with something you pick up while shopping at Santoni's Marketplace and Catering. We would love to see your creative recipes and food creations. Please feel free to tag us on social media on how you used Santoni's to help make your Halloween or fall party more festive!